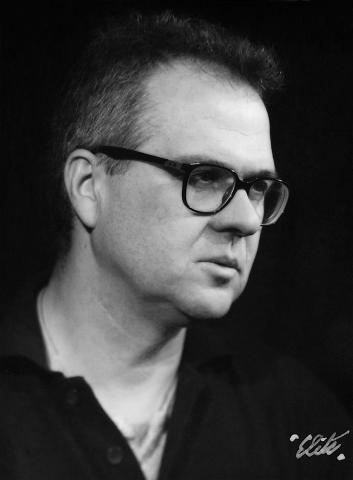 TWO POEMS BY
GIORGOS CHRONAS
translated by Giannis Goumas
SUMMER NOTICE
I saw your death notice
pasted on an electric pole.
No relations mourned for you: you never had any.
Neither brother or sister nor children, I knew that.
A neighbour will undertake the costs, you had said:
I've taken care of everything.
I remember you walking under the trees
outside the Water Board.
Once you bent down to pat a stray dog
- who knows what fate has in store for us?
You hurried to catch the tram to the seaside
where you swam to a great depth: a true-born risker.
Windy August, and dust covers the street
which mourns in the solitude of summer.
IN A TIRANA ALLEY
He introduced me to his friend
- he collects empty cans of soft drinks
                        and beers, he said,
but at night, becaise he is ashamed to be seen
in the day; he sells them per kilo.
He lives with his mother. She in the room downstairs
and he walks up the wooden stairs to his room.
She doesn't see his hands, his feet wearing
                        white socks.
She is asleep when he starts work. When he turns in
she keeps quiet so as no to wake him.
If he hadn't told me de's a local
I'd have taken him for an Egyptian
who rowed desperately all day long
               on the Nile
to reach where?
Giorgos Chronas is poet, publisher and  founder of 
Odos Panos Magazine